DADA is the only online community where artists from all over the world speak to each other through digital drawings, creating collaborative visual conversations. At over 130,000 drawings, DADA holds the largest collection of art ready to be tokenized as NFTs.
11 May Tue
17:00 CEST
WATCH
#NFT #cryptoart #blockchain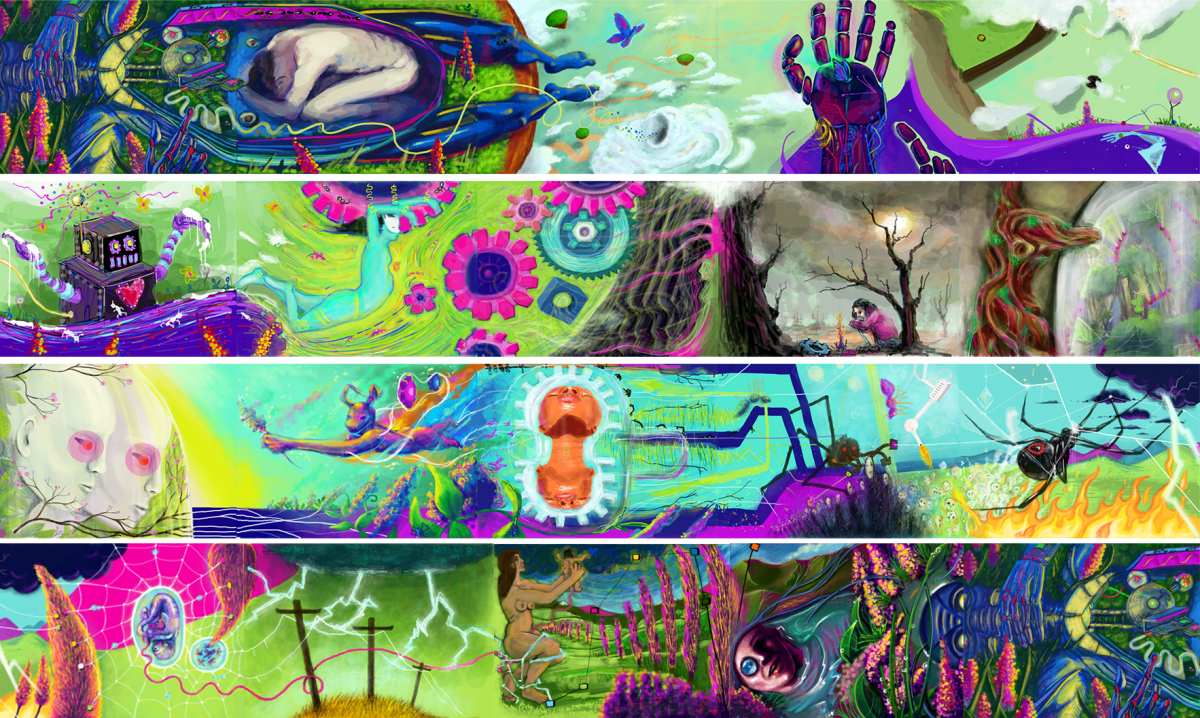 DADA is the only online community where people from all over the world speak to each other through drawings, creating collaborative art. Artists in different countries create spontaneous visual conversations, expressing themselves regardless of geography or language. DADA is one of the pioneering projects to prove a use case for digital art and blockchain. It launched its first collection of NFTs Creeps & Weirdos in October 2017.
With over 130K drawings made on its platform, DADA holds the biggest collection of artworks ready to be traded as Non-Fungible Tokens.
DADA is creating the Invisible Economy, a new economic paradigm for artists based on intrinsic incentives and motivations, in which art-making is decoupled from transactions, allowing artists to create, collaborate, and experiment freely while they receive a passive income for their contribution to the community.
DADA's art has been shown at the Tate Modern in London, the Ethereal Summit, CADAF, and other virtual and physical galleries.
DADA was founded in 2014 by Beatriz Helena Ramos, Judy Mam and Abraham Milano. Today it is transitioning into a decentralized organization.
If you are interested in to actively join this discussion with the panelists, contact us at michal@dox.cz so we can make sure to invite you to Zoom room. Otherwise enjoy watching it over the stream channel.
Beatriz Ramos / Judy Mamm / Lenara Verle / Sparrow
Bea is a visual artist. Ex- entrepreneur transitioning to full-time social anarchist. Creator of DADA and its Invisible Economy.
Judy Mam is the co-creator of dada.art, the only online community where artists from all over the world speak to each other through digital drawings ready to be tokenized as NFTs. Before founding DADA, Yehudit was a creative director in advertising. She writes about film and other topics. Her first novel, Quién te manda, will be published this year by Editorial Ferragosto. Originally from Mexico City, she lives in New York.
Lenara is a Berlin-based artist and a researcher with a focus on collaboration, community currencies and money experiments. Lenara is also founder of Coinspiration.org, an online platform that promotes new forms of currencies and value exchange in order to contribute to a better world. Lenara is co-creating the Invisible Economy together with Dada.art. More info about Lenara here: www.lenara.com
Sparrow created Women Of Crypto Art (WOCA) to provide a space where anyone who identified as a woman could feel welcome and participate in initiatives aimed at ensuring women's art and voices are seen & heard in the NFT space. Sparrow has been working on the Invisible Economy for the last 9 months, creating a sustainable economy that radically separates art from the market to allow artists true freedom to create.