Islands are often considered metaphors for isolation. Their remoteness is a fiction we will map/assemble/act together in an anything-but-human entanglement. Our cartographic conversation will reflect on the affects of self-sufficiency, cohabitation and viable ecosystems. What species will you embody when considering the possibilities of care on these islands?
17 May Mon
11:00 CEST
WATCH
#Remoteness #Entanglement #Care #NonArrogantCollaboration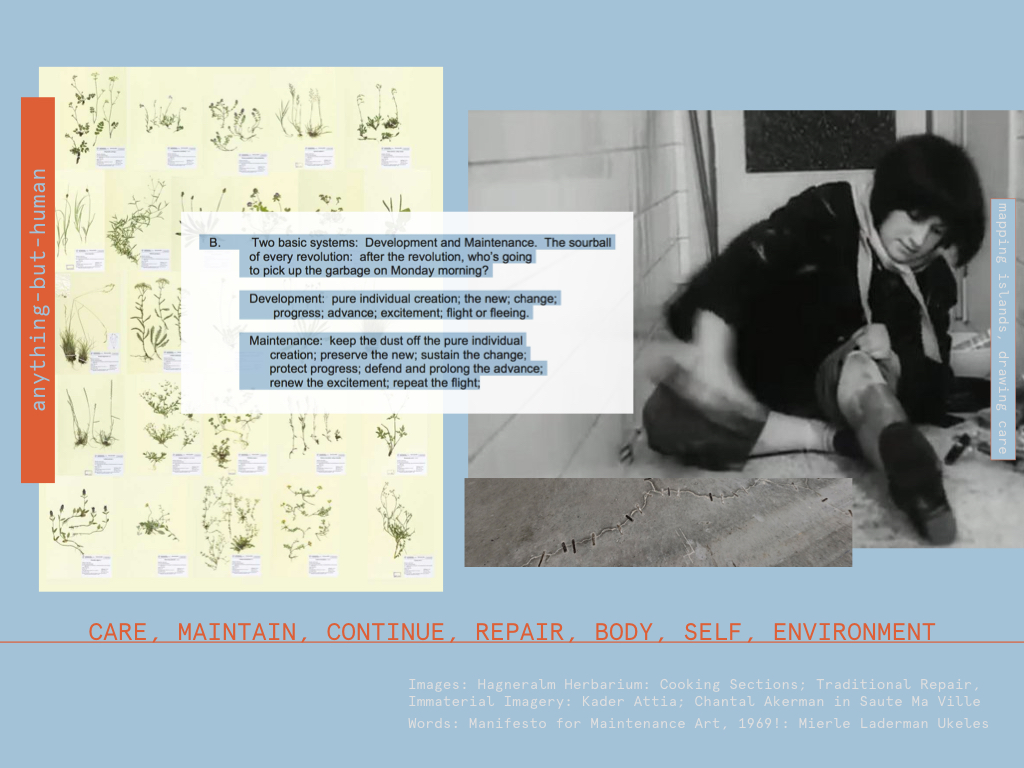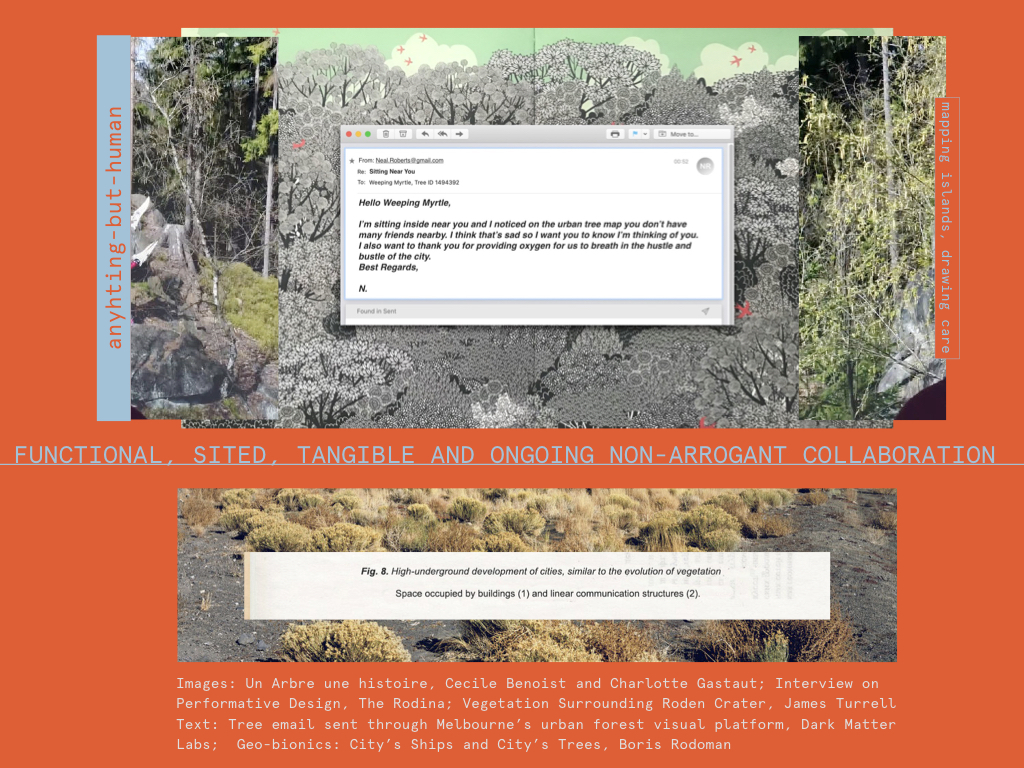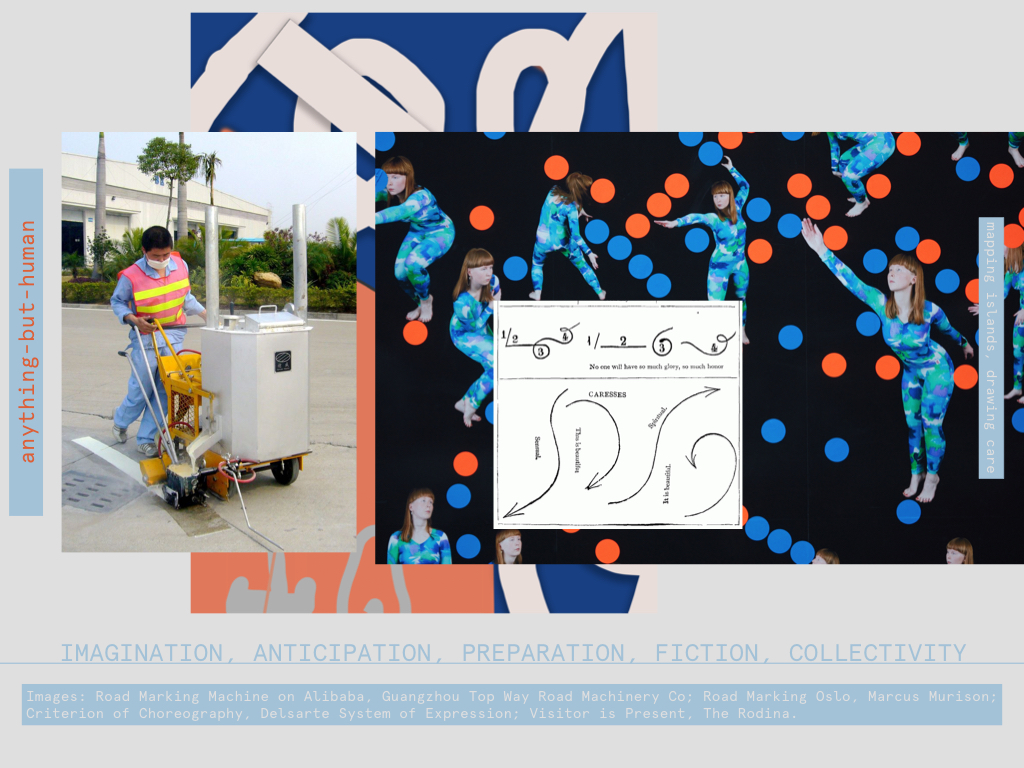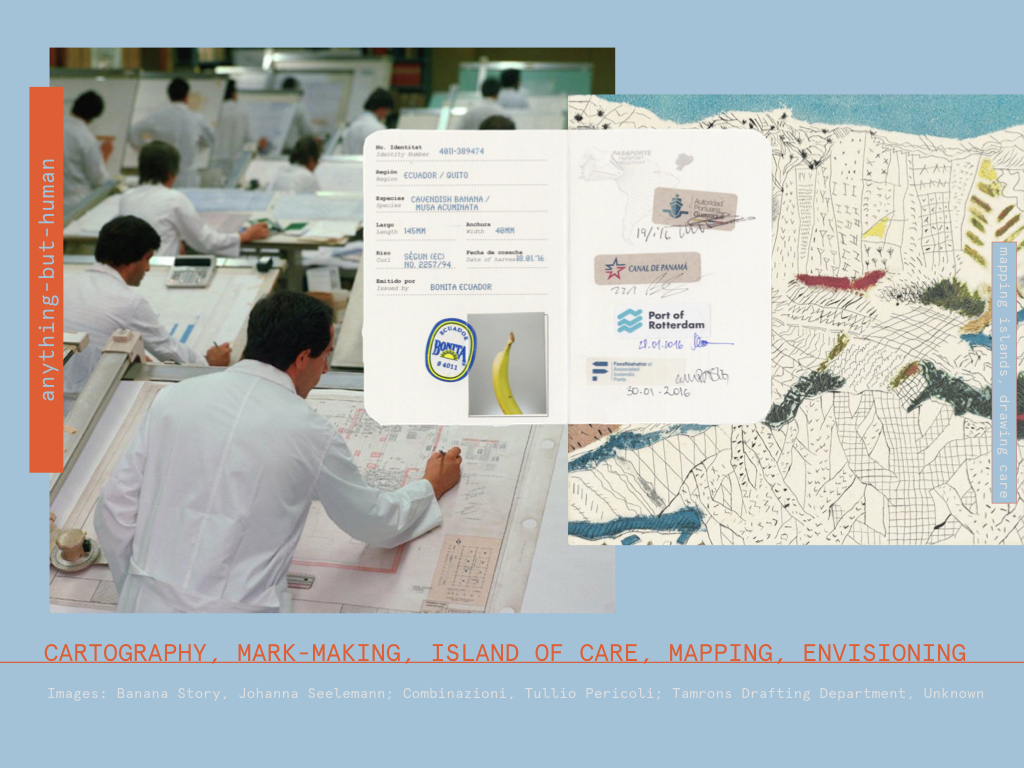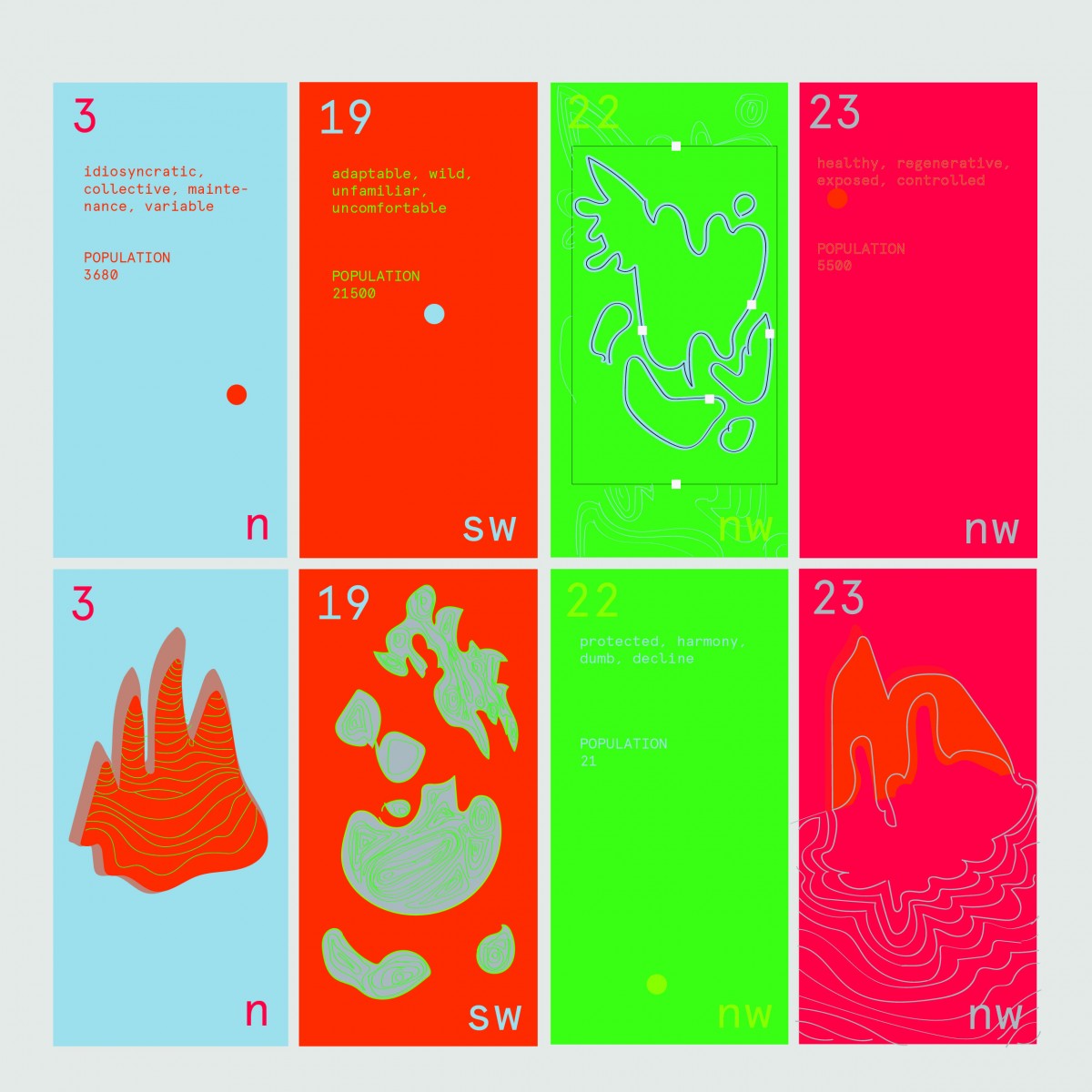 Islands are often considered metaphors for isolation as they offer refuge from society while separating us from societal conveniences. Their imagined remoteness requires us to explore our self-sufficiency, cohabitation and the viability for ecosystems to collectively thrive.
Joan Tronto and Berenice Fisher (1990) define care as "everything that we do to maintain, continue, and repair 'our world' …. That world includes our bodies, ourselves, and our environment, all of which we seek to interweave in a complex, life sustaining web" (Mattern, 2018). As carers of others, ourselves and future communities, we welcome and fear the idea of remoteness.
To find yourself in a remote location is to challenge your idea of care; being cared for and the practice of providing care. Access to what the public has come to expect informs the basis for care; be it the community, the practice, or the context of care itself. Remote as a context may represent a time, an edge, a climate, an island or a planet.
We seek it not for its' geographical sense, but try to understand it through the socio-ecological structures it imposes and fosters. The recognition and inclusion of more-than-humans in 'non-arrogant collaboration' during island-building can help to reveal how the world works and to explore 'dilemmas in' and 'possibilities of' care (Haraway 2016).
This cartographic conversation presents an opportunity to reflect on the affects of location and the more-than-human perspective when exploring and understanding care in different settings. What might care mean to you, the island community, an ecosystem?
In this workshop, you are invited to imagine and draw a map of care by removing yourself from your 'familiar' environment and placing yourself in a remote location and unfamiliar perspective. Care will be explored and imagined via a series of fictional 'island' settings drawn from the Dictionary of Imaginary Places (Manguel and Guadalupi, 1980).
The mapping exercise will be guided by collective inter-species role-play. Participants will adopt identities and navigate the conversation from the perspective of something more-than-human (insect-architect, ethnographer, writer, lichen-cartographer, ocean, climate) while drawing a map of their chosen island.
Fictional islands will be made up of imagined histories and relevant realities, from inhabitants as opposed to onlookers. You are invited to become anything-but-human in the interspecies entanglement. The workshop will begin with a reading on care during which participants will be invited to draw themselves as islands. This workshop will be an exercise in mapping/assembling/acting ideas surrounding CARE, REMOTENESS, ANYTHING-BUT-HUMAN, ENTANGLEMENT and POSSIBILITY.
City as a Spaceship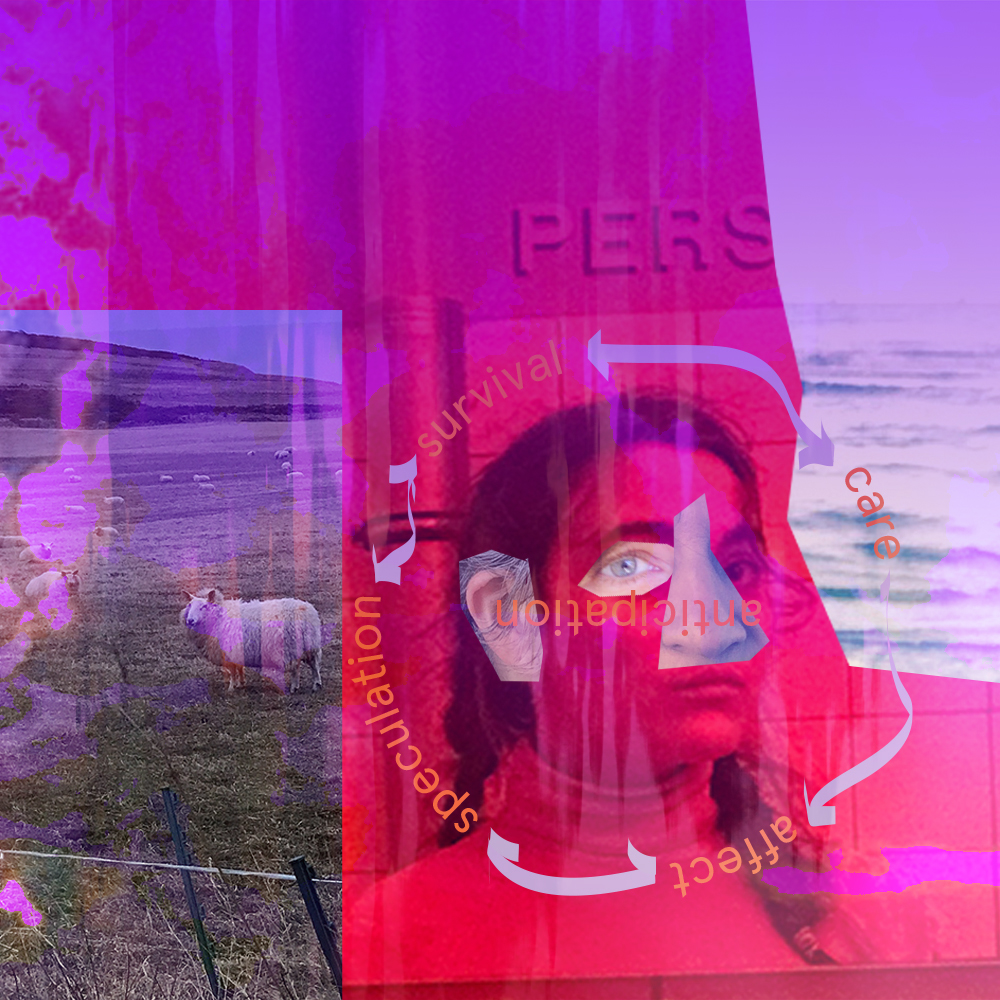 City as a Spaceship is an all-women collective applying closed-loop system thinking used in spaceship design onto extreme urban realities. We have backgrounds in architecture, physiology, anthropology, design and engineering. Our work is a well-documented thought experiment that explores reciprocities between extra-terrestrial and terrestrial living. The shared, tentacular approach is focussed on the key themes of cities, technology, environment and society. This workshop will be run by two of our team. Sue Fairburn is a design educator and researcher in extreme environments and unfamiliar contexts, living on Bowen Island on the west coast of Canada. Jennifer Cunningham is a design researcher and writer with a background in material culture and design anthropology currently living in Vienna, Austria.